All-on-4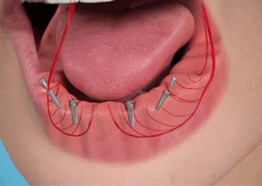 If you think that replacing several teeth means living with mouth full of dental implants, you will be pleased to learn that there is a less invasive alternative. Thanks to advances in implant dentistry, restorative techniques have become even more patient-friendly and fuss-free than before.
Known as the All-on-4 technique, this new and innovative approach secures a full arch of artificial teeth in the jaw without the need for individual screws. Usually it involves the placement of four strategically placed implants, hence the name 'All-on-4'. The implants are placed in such a way that they form a stable and sturdy base for the arch of teeth to be attached to. This procedure uses state-of-the-art technology such as 3D x-rays and surgical planning software to ensure absolute precision and accuracy. The surgery is quick, too, so you don't have to spend hours in the dental chair. In fact, you can walk out with your new smile right after the appointment!
Not only will you have an attractive smile that looks as natural as the real thing, you will be able to eat, chew and speak with confidence. Our practice team is highly skilled in implant placement and we look forward to answering your questions about it.
Contact us today for an appointment.